Bourassa Family
MUSIC: The Rose Lyric's are at the bottom of the page.
My great great grandparents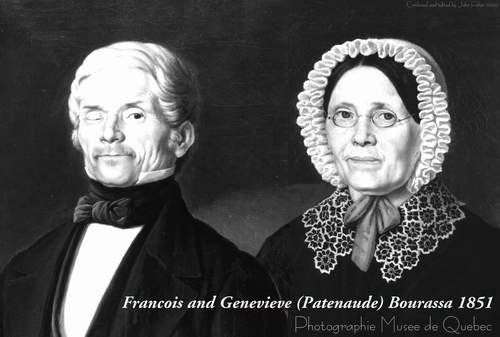 You will not find this picture in the Musee de Quebec, since I have merged two pictures of my great great grandparents photographically.
My great grandparents - Vital and Emelie (Hebert) Bourassa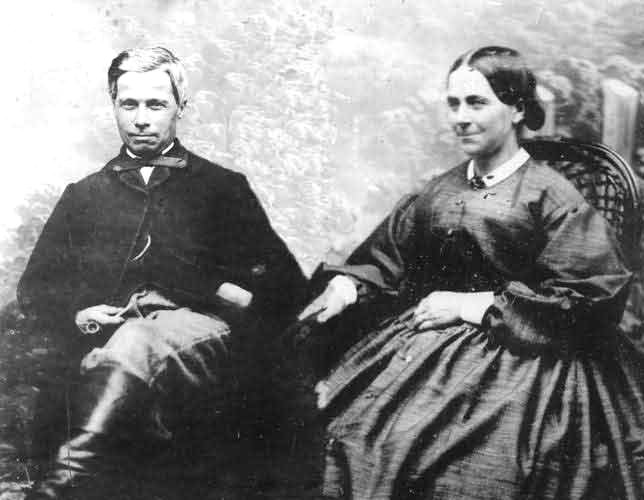 Many thanks to Anne Bourassa, daughter of Henri Bourassa, for these pictures.
My grandparents
My great great grandfather Francois Bourassa and his wife Genevieve Patenaude lived in L'Acadie, and his son Vital Bourassa and his wife Emelie Hebert owned the farmhouse and 336 acres of land later. I believe that my grandfather Louis Alphonse Bourassa was born there and with his wife, Vitaline LeBlanc, raised their children in L'Acadie before moving to St Jean about 1906 and later to Winooski, Vermont in 1910.
The L'Acadie Quebec Website - L'Acadie is a special place for the Bourassa and Fisher Family. It is a beautiful place to visit if you have the opportunity.
Acadian and French Canadian Ancestral Home - Learn about our great Acadian History.
The Bourassa Family moves to Winooski, Vermont on 1 April 1910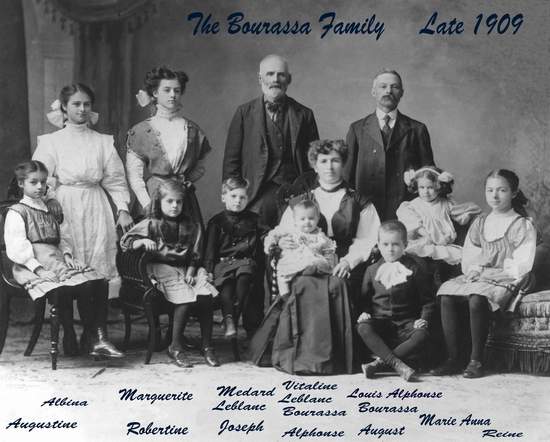 The Bourassa Family of Winooski, Vermont - circa 1928
Alphonse, Reine Kelty, Marguerite Villemaire, Marie Anna Poissant/Fisher, and Joseph
Albina, Mother-Vitaline Leblanc Bourassa, and Robertine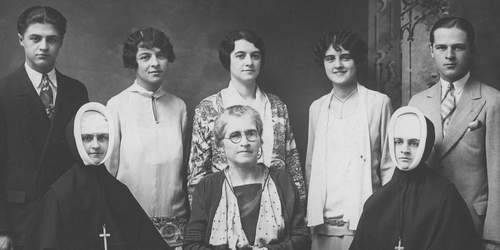 The Bourassa Family of Winooski, Vermont - 1976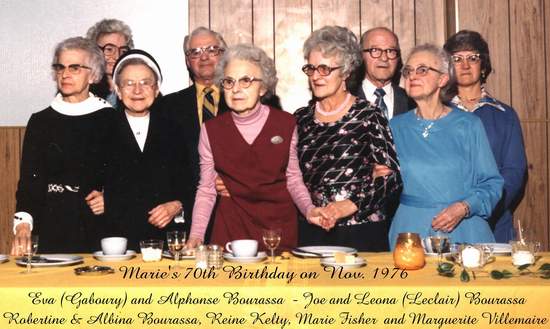 Lyrics of "The Rose"
Some say love,
It is a river that drowns the tender reed.
Some say love,
It is a razor that leaves your soul to bleed.
Some say love,
It is a hunger, an endless aching need.
I say love, it is a flower,
and you its only seed.
It's the heart, afraid of breaking,
That never learns to dance.
It's the dream, afraid of waking,
That never takes a chance.
It's the one who won't be taken,
Who cannot seem to give.
And the soul, afraid of dying,
that never learns to live.
When the night has been too lonely,
And the road has been to long,
And you think that love is only for
The lucky and the strong
Just remember
in the winter far beneath the bitter snows
Lies the seed that with the sun's love
In the spring becomes the rose.