Anne Murray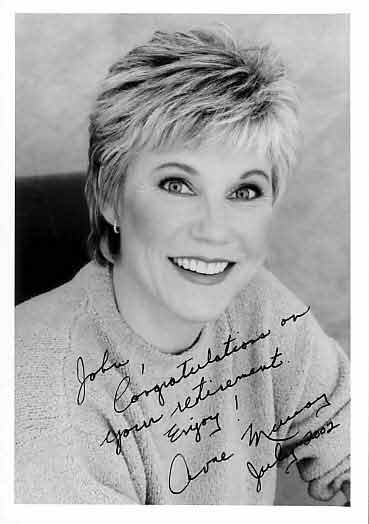 MUSIC(Midi): Could I have This Dance
Many Thanks to Karen Millham for acquiring this pic for my retirement; and thanks to my 8th cousin Anne for autographing it to me.
Kathy and I visited the Anne Murray Museum in Springhill, Nova Scotia. This is where Anne was born and raised. We had the pleasure of speaking with Anne's mother Marion. She is a wonderful lady. I have always admired Anne and I enjoy all her songs.
This chart shows how John Fisher and Anne Murray are related
thru the ACADIAN Belliveau Family.
Antoine Belliveau <--- Departed from Vienne,
Born 1621 France and settled in
Marie Andree Guyon Port Royal, Acadia
| about 1650.
Jean Antoine Belliveau
Wed 1671 in Port Royal, Acadia
Marie Jeanne Bourg
|
-----------------|--------------
| |
Jean Charles Belliveau Sib Charles Belliveau
Wed 1696 in Port Royal Wed 1699 in Port Royal
Madeleine Melanson Marie Melanson
| |
Pierre (Piau) Belliveau 1st Margaret Belliveau
Wed 1728 in Port Royal Wed 1725 in Port Royal
Jeanne Gaudet Joseph LaNoue
| |
Joseph (Jospiau) Belliveau 2nd Margaret LaNoue
Wed about 1773 Wed 1772 in LaPrairie, PQ
Marie Josephe Gaudet Charles Granger
| |
Pierre Belliveau 3rd Marie Granger
Memramcook NB Wed 1784 in L'Acadie, PQ
Margaret Bourque Pierre Hilaire Leblanc
| |
Maximin Belliveau 4th Joseph Leblanc
Memramcook NB Wed 1827 in L'Acadie, PQ
Justine Melanson Osite Ste Marie
| |
Damien Belliveau 5th Medard Leblanc
Wed 1883 Joggin Mines NS Wed 1862 St Valentine, PQ
Sarah Burke Eleonore Trahan
| |
Arthur Burke 6th Vitaline Leblanc
1881 - 1969 Wed 1889 in L'Acadie, PQ
Mary Justine Beliveau Louis Alphonse Bourassa
| |
Marion Burke 7th Marie Anna Bourassa
Wed 1937 Live in Springhill, NS Wed 1928 in Burlington, VT
Carson Murray Arthur Joseph Poissant
| |
Anne Murray 8th John R. Fisher (Poissant)
Bn 1945 Cousins Bn 1940 Wed 1965 in Burlington, VT
William Langstroth Kathleen Claire Desany
* Info by Bruce Murray * Info by John Fisher
NOTE: ACADIA is now Nova Scotia, New Brunswick, Prince Edward
Island and Cape Breton.